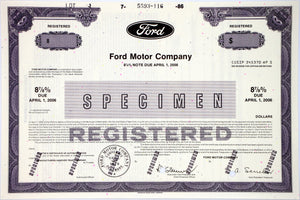 Ford Motor Company Bond Certificate
This Ford Motor Company Registered Specimen Bond Certificate is dated 1986. It is a rare purple bond. This makes an excellent gift for a Ford employee. It will look fantastic framed up and hanging in an office. Own a certificate from one of the great American auto companies!
This certificate has a collectible value only; it has no cash value and does not represent any rights in the security.
Condition: Excellent unfolded condition.
Free Shipping
Item: CSC-208