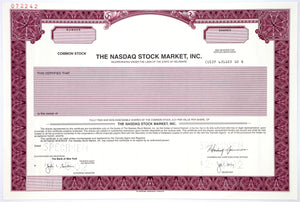 Nasdaq Stock Certificate
This Nasdaq Stock Market, Inc. Specimen Stock Certificate is purple and dated 2002. This is from Jeffries Banknote Company. Specimens like this are very scarce. This neat certificate from a prestigious exchange will make a fantastic gift for a financial advisor, investor, or client.
Nasdaq, Inc. is an American multinational financial services corporation that owns and operates the NASDAQ stock market and eight European stock exchanges.
This certificate has a collectible value only; it has no cash value and does not represent any rights in the security.
Condition: Excellent unfolded condition. Shows minimal handling wear on bottom right edge.
Free Shipping 
Item: CSC-218