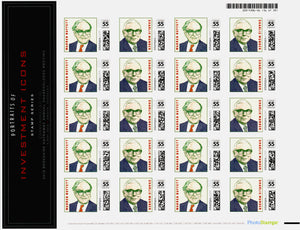 Berkshire Hathaway Memorabilia
Here we have a rare sheet of Berkshire Hathaway Investment Icons Series Stamps - 2019. These stamps were purchased at the annual meeting in 2019. Only a few of these stamps were ever produced! You will receive sheet # 16 of 50! The scarcity of these stamps makes them potentially extremely valuable!
The stamps feature Warren Buffett and Charlie Munger, and they are considered live with the Post Office. They will look fantastic, framed up, and hanging on the wall in a home or office. The stamps are in mint condition!  This is a must have for the Berkshire Hathaway fan or collector! Like other Berkshire Hathaway investments, these go up in value over time!  
Click to see all Berkshire Hathaway Memorabilia  
Free Shipping! 
Item: CBH-188