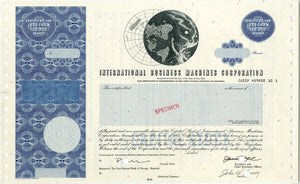 IBM International Business Machines Corp. Stock Certificate
This IBM International Business Machines Corporation Specimen Stock Certificate is from the 1960s. Early specimens like this are very scarce. This one is rare because it features the older style printer feed perforations on the specimen's sides. This makes us take a step back in time!
This certificate would be an excellent gift for an IBM employee. It will look fantastic framed up and hanging in an office.  Own a rare specimen from one of the great original tech companies!
This certificate has a collectible value only; it has no cash value and does not represent any rights in the security.
Condition: Excellent unfolded condition.
Free Shipping 
Item:  CSC-206