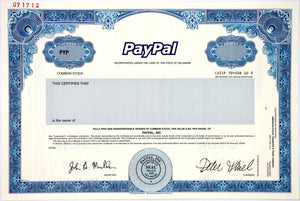 PayPal Stock Certificate
This PayPal Specimen Stock Certificate is dated/pin punched 2001. It features the facsimile signature of Peter Thiel as Chairman. This early specimen is extraordinarily rare. We have only seen one certificate like this previously. Own a scare certificate from one of the great original Fintech companies!
Condition: Excellent, unfolded, frame-worthy condition.

Free Shipping!
Item: CSC-224