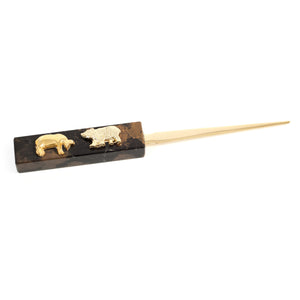 This elegant letter opener features "tiger's eye" marble with gold plated bull and bear emblems. It has a gold plated brass blade that will enable you to work in style. This accessory matches other gifts that we sell. They can be easily combined to make the perfect set. This is an excellent gift for financial advisers, investors, and clients. Your recipient will treasure this neat and thoughtful gift!
Measures: 8.5" L x 1" W x .65" H and weighs approx. 2 oz.
Need Multiples? We are happy to offer quantity discounts. Please contact us for a custom quote.
Free Shipping on all orders.    
Item: BBT-D010B