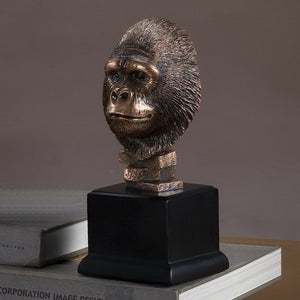 This 9" Gorilla Head Statue features a stunning bronze finish and exceptional details. It sits on top of a decorative base and is beautifully crafted. This is one of our fan-favorites. This humorous statue makes you want to bring the Safari into your home! This Gorilla Head Sculpture will make a fantastic gift or addition to an African Animal Figurine collection! Your recipient will treasure this one!
Measures: 4" W x 9" H and weighs approx. 2 lbs.
High-quality bronze finish.
Free Shipping!
Item: TST-55162