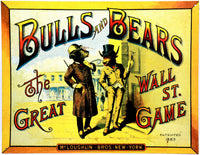 Stock Market Gifts and Collectibles
Wall Street Treasures specializes in gifts for financial professionals. We have a large selection of modern-day gifts and a unique collection of vintage Wall Street memorabilia.
Our inventory consists of bull and bear items, desk accessories, office gifts, statues, trading jackets, stock and bond certificates, literature, pictures, art, and more.
We are passionate about the markets and their history. Please do not hesitate to reach out with questions. We look forward to helping you find that perfect gift!