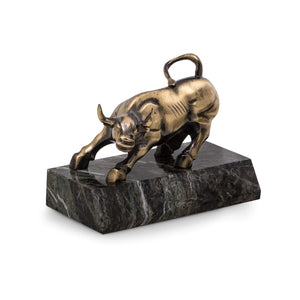 This impressive Wall Street Bull Statue has a neat and unique antique brass finish. It sits on top of a beautiful green marble base. The detail and quality of this sculpture are exceptional. It will look fantastic in any office space. This is one of our top-sellers. This is an excellent gift for financial advisers, investors, and clients. Your recipient will treasure this neat and thoughtful gift!
Measures: 6.5" L x 4" W x 3" H and weighs approx. 3 lbs. 8 oz.
Please allow 3-4 business days for this item to ship. 
Need Multiples? We are happy to offer quantity discounts. Please contact us for a custom quote.
Free Shipping on all orders. 
Item: BBT-D025B