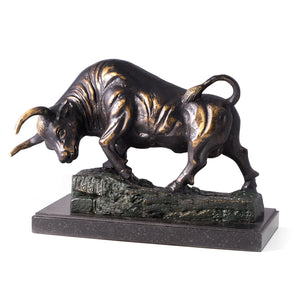 This "Conquering Bull" is an impressive sculpture. The details and quality are exceptional. It features a beautiful bronze finish and sits on top of a solid marble base. This is a limited edition piece, and it's stunning. It will look fantastic in any office space. This is an excellent gift for financial advisers, investors, and clients. If you're looking for something different or trying to make a statement, this is the one!
Measures: 14" L x 10.5" W x 10.5" H and weighs approx. 25 lbs.
Please allow 3-4 business days for this item to ship.
Need Multiples? We are happy to offer quantity discounts. Please contact us for a custom quote.
Free Shipping on all orders.  
Item: BBT-B172