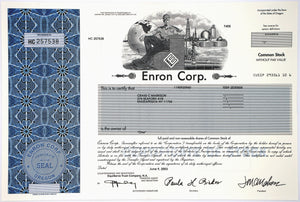 Enron Stock Certificate - Scandal

This Enron Corp. Stock Certificate is dated 2003 and features Jeff McMahon's printed signature. The stock certificate has the two usual fold marks, but as you can see in the picture, they are barely noticeable. Enron Stock Certificates are a must have for the collector! Own a piece of one of the largest corporate accounting frauds in our nation's history!
This certificate has a collectible value only; it has no cash value and does not represent any rights in the security.
Condition: Excellent
Click to see all  Enron Stock Certificates
Click to see all Enron Memorabilia
Free Shipping

Item: CSC-151