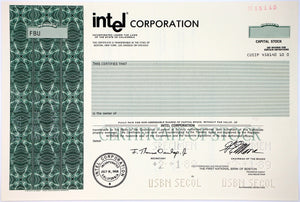 Intel Corporation Stock Certificate
This Intel Corporation Specimen Stock Certificate is dated 1989. Early specimens like this are very scarce. This certificate would be an excellent gift for an Intel employee. It will look fantastic framed up and hanging in an office.  Own a rare specimen from one of the great original tech companies!
This certificate has a collectible value only; it has no cash value and does not represent any rights in the security.
Condition: Excellent, showing minimal handling wear
Free Shipping 
Item:  CSC-205