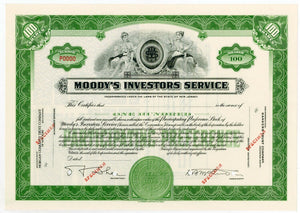 Moody's Stock Certificate
This Moody's Investors Service Specimen Stock Certificate is from the 1940s. Early specimens like this are very scarce. This would be an excellent gift for a Moody's employee. It will look fantastic framed up and hanging in an office.
Moody's Investors Service provides international financial research on bonds issued by commercial and government entities. Moody's, along with Standard & Poor's and Fitch Group, is considered one of the Big Three credit rating agencies. The company was founded in 1909 and has nearly 12,000 employees today.
This certificate has a collectible value only; it has no cash value and does not represent any rights in the security.
Condition: Excellent
Free Shipping
Item: CSC-159