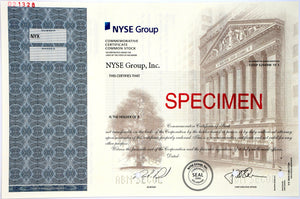 NYSE Stock Certificate
This NYSE Group, Inc. Specimen Stock Certificate is dated 2006. It's an extremely rare IPO specimen. This would be an excellent gift for an NYSE employee, financial advisor, investor, or client. 
The NYSE merged with Archipelago Holdings on March 7, 2006, forming the NYSE Group, Inc. For the first time in its 213-year history, the New York Stock Exchange became a for-profit company and began trading publicly on its own stock exchange under the NYX ticker.
This certificate has a collectible value only; it has no cash value and does not represent any rights in the security.
Condition: Excellent unfolded condition.
Free Shipping
Item: CSC-161