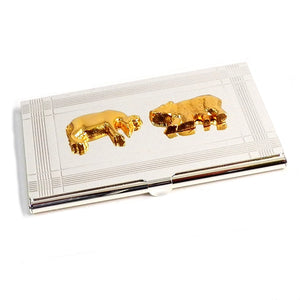 This Wall Street Bull and Bear Business Card Holder will enable you to keep your cards safe with style. It features a beautiful silver plated finish with gold plated bull and bear emblems. This card holder is made of quality, and it's a must have if you're in sales. This is an excellent gift for financial advisers, investors, and clients. Your recipient will treasure this neat and thoughtful gift!
Measures: 3.85" L x 2.5" W x .15" H and weighs approx. 2 oz.
Need Multiples? We are happy to offer quantity discounts. Please contact us for a custom quote.
Free Shipping on all orders.  
Item: BBT-D156B