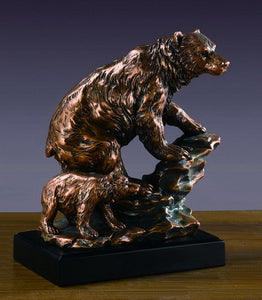 This 9.5" Bear with Cub Statue represents the loving relationship between a mother bear and her cub. The piece captures a moment of intimacy as she leads her offspring through the wilderness. Any animal-lover or nature enthusiast will appreciate this stunning piece on a shelf in their home.
Measures 7.5" W x 9.5" H and weighs approx. 6 lbs. 6 oz. 
High-quality bronze finish.
Free Shipping!

Item: TN-53167