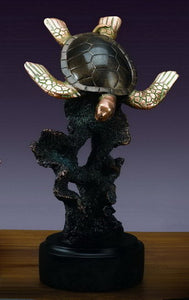 This Sea Turtle Statue features a stunning bronze finish and exceptional details. The turtle is swimming around the coral gracefully. The sculpture sits on top of a decorative base and is beautifully crafted. Your recipient will treasure this one!
Measures: 8" W x 11.5" H
High-quality bronze finish.
Free Shipping!
Item: TST-52006