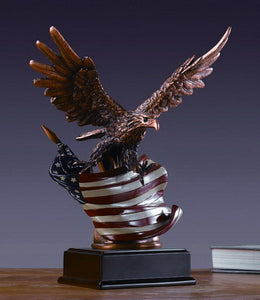 This Eagle with American Flag Sculpture features exceptional details. It sits on top of a decorative base and is beautifully crafted. It has a stunning bronze finish. This is one of our top-selling gifts, and you can see why. These statues are fantastic gifts for those in the Military and in the Boy Scouts. Your recipient will treasure this gift!
Measures: 10" W x 12.5" H and weighs approx. 3 lbs. 13 oz.
High-quality bronze finish.
Free Shipping!
Item: TST-51138