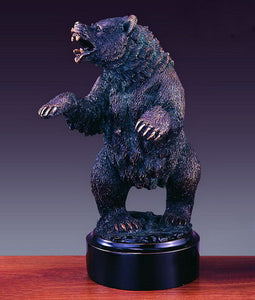 This Wall Street Bear Standing its Ground Statue is impressive! The bear is growling, showing us its teeth and paws! It looks powerful and ready to attack! The sculpture sits on top of a decorative base and features incredible details. This bear statue looks great paired up with its Wall Street Bull partner!
Measures a substantial 6" W x 12" H
High-quality bronze finish.
Need Multiples? We are happy to offer quantity discounts. Please contact us for a custom quote.
Free Shipping on all orders.
Item: TST-33115