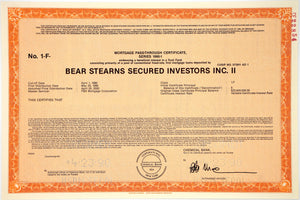 Bear Stearns Stock Certificate
This Bear Stearns Specimen Stock Certificate is a Secured Investors Inc. II Mortgage Pass-Through in orange and dated 1990. It's ironic to see the words Bear Stearns, Secured Investors, and Mortgages because we all know how that ended!
Bear Stearns was one of the great global investment banks based in New York. This prestigious firm failed in 2008 due to the financial crisis and recession. Own a piece of financial crisis history!
This certificate has a collectible value only; it has no cash value and does not represent any rights in the security.
Condition: Mint
Free Shipping
Item: CSC-173