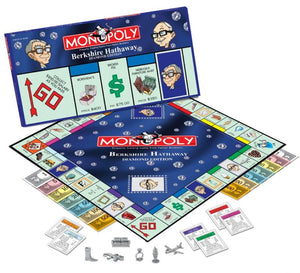 Berkshire Hathaway Memorabilia
Here we have a rare Berkshire Hathaway Diamond Edition Monopoly Game from 2005; still factory sealed! Only 1,000 of these games were produced.
This neat game features many Berkshire Hathaway companies such as Geico, Fruit of the Loom, Dairy Queen, and Borsheim's. Even the game tokens are custom and made of pewter. They reflect some of the great acquisitions the firm has made. They include a Gecko, cowboy boot, airplane, ice cream cone, sofa, and a diamond ring. Control the board and become the CEO of Berkshire Hathaway!
This game is one of our top-sellers. This is a must have for the Berkshire Hathaway fan and collector. Like other Berkshire Hathaway investments, these go up in value over time!   
Condition: New and sealed in original plastic. The game is in excellent condition, showing minimal shelf wear.
Click to see all Berkshire Hathaway Memorabilia
Free Shipping! 
Item: CBH-213