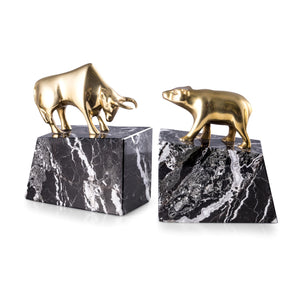 The detail and quality of these Bull and Bear Bookends are exceptional. They are made of solid black and white marble and feature a solid brass bull and bear. These beautiful bookends will look fantastic in any office space. This pair is one of our top-sellers. This is an excellent gift for financial advisers, investors, and clients. Your recipient will treasure these!
Measures: 5.5" L x 3" W x 7.25" H and weighs approx. 12 lbs. total.
Need Multiples? We are happy to offer quantity discounts. Please contact us for a custom quote.
Free Shipping on all orders.    
Item: BBT-R19B