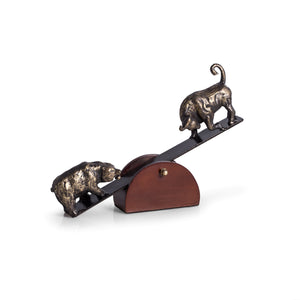 This Bull and Bear See-Saw Sculpture is neat! The bull and bear are always in competition for the market! The details and quality are exceptional. It has a beautiful metallic bronze finish and a wood base. This will make a fantastic shelf or desk topper.
The See-Saw sits in a fixed position and does not move back and forth. However, you can set the fixed position in the way that you prefer; up, down, or even. The metal bull and bear can be moved where you wish. This is an excellent gift for financial advisers, investors, and clients. Your recipient will treasure this neat and thoughtful gift!
Measures: 6" L x 1.75" W x 8.5" H and weighs approx. 3 lbs. 1 oz.
Please allow 3-4 business days for this item to ship.
Need Multiples? We are happy to offer quantity discounts. Please contact us for a custom quote.
Free Shipping on all orders. 
Item: BBT-B123