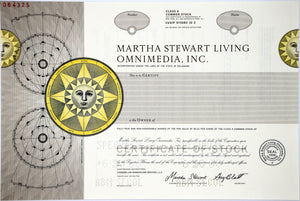 Martha Stewart Stock Certificate
This Martha Stewart Living Omnimedia, Inc. Specimen Stock Certificate is dated 2000. Specimens like this are extremely rare. The certificate features Martha Stewart's printed signature as the Chairwoman and Chief Executive Officer. There is some interesting history here! 
This certificate has a collectible value only; it has no cash value and does not represent any rights in the security.
Condition: Excellent
Free Shipping
Item: CSC-166