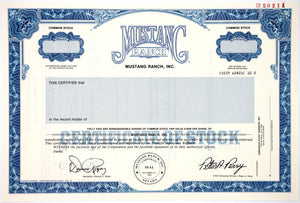 Mustang Ranch Stock Certificate
This Mustang Ranch, Inc. Specimen Stock Certificate is dated 1990, and it's in pristine condition. Early specimens like this are scarce. This certificate has significant historical relevance to Nevada and legalized brothels in general. This company's history is fascinating. Every stock certificate collection needs a few conversation pieces in it! This is a must-have for the collector!
This certificate has a collectible value only; it has no cash value and does not represent any rights in the security.
Condition: Excellent, unfolded, frame-worthy condition.
Free Shipping!
Company History - From Wikipedia
The Mustang Ranch, is a brothel in Storey County, Nevada, about 20 miles east of Reno. It is currently located at 1011 Wild Horse Canyon Dr Sparks, NV 89434. Under owner Joe Conforte, Mustang Bridge Ranch, the precursor to Mustang Ranch, became Nevada's first licensed brothel in 1971, eventually leading to the legalization of brothels prostitution in 10 of 17 counties in the state. Mustang Ranch opened to the public in 1976 and was America's largest brothel with 166 acres and the most profitable. The Mustang Ranch was forfeited to the federal government in 1999 following Conforte's convictions for tax fraud, racketeering and other crimes. It was auctioned off and reopened in 2005, 5 miles to the east under the same name but different ownership.
Item: CSC-252