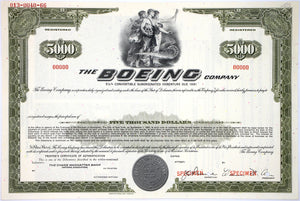 Boeing Company Bond Certificate
This Boeing Company Registered Specimen Bond Certificate is dated 1966. This rare certificate has significant historical relevance to the airline industry. This will make an excellent gift for a Boeing employee. It will look fantastic framed up and hanging in an office. Own a specimen from a legendary American Aerospace Company!
From Wikipedia:
Boeing is among the largest global aerospace manufacturers; it is the third-largest defense contractor in the world based on 2020 revenue, and is the largest exporter in the United States by dollar value. Boeing stock is included in the Dow Jones Industrial Average.
Condition: Excellent unfolded condition.
Free Shipping!
Item: CSC-237