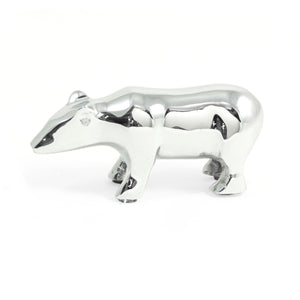 This impressive Wall Street Bear Paperweight has a neat and unique chrome-plated finish. It's made of brass and has good weight. It makes a great shelf or desk topper and looks fantastic in any office space. This is an excellent gift for financial advisers, investors, and clients. Your recipient will treasure this neat and thoughtful gift!
Measures: 4" L x 2" W x 1.25" H and weighs approx. 6 oz.
This Bear Paperweight can be complemented with its Bull partner item BBT-D022. 
Please allow 3-4 business days for this item to ship.
Need Multiples? We are happy to offer quantity discounts. Please contact us for a custom quote.
Free Shipping on all orders.  
Item: BBT-D023