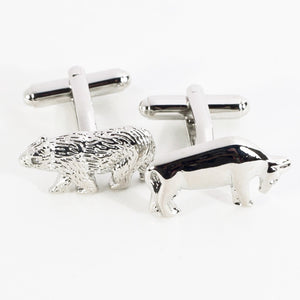 These Wall Street Bull and Bear Cufflinks will make a nice addition to a wardrobe. They feature a beautiful rhodium plated finish and are built to last. These cufflinks deliver that classic bull and bear look that never gets old. These cufflinks are a great value; they are not cheaply made like others. This is an excellent gift for financial advisers, investors, and clients. Your recipient will treasure this neat and thoughtful gift!
Measures: .75" L x 1" W x .5" H and weighs approx. 2 oz.
Need Multiples? We are happy to offer quantity discounts. Please contact us for a custom quote.
Free Shipping on all orders.  
Item: BBT-J138