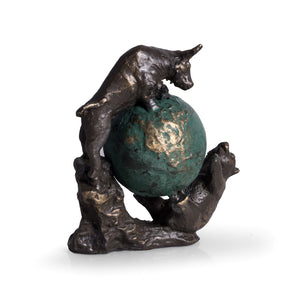 This sculpture features a Bull and Bear fighting over the world's markets! The details and quality are exceptional. It has a beautiful bronze metallic finish. This is an excellent gift for financial advisers, investors, and clients. This statue is unique and will be a great conversation starter! Your recipient will treasure this neat and thoughtful gift!
Measures: 7.5" L x 4" W x 7.5" H and weighs approx. 7 lbs.
Please allow 3-4 business days for this item to ship.
Need Multiples? We are happy to offer quantity discounts. Please contact us for a custom quote.
Free Shipping on all orders. 
Item: BBT-B159