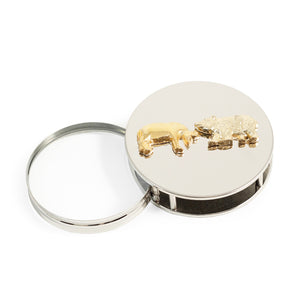 This Wall Street Bull and Bear Paperweight/Magnifying Glass will make a nice addition to a desk. It features a beautiful chrome plated finish with gold plated bull and bear emblems. The magnifying glass folds out, and it has 3x magnification. When not in use, it doubles as an elegant paperweight. This is an excellent gift for financial advisers, investors, and clients. Your recipient will treasure this neat and thoughtful gift!
Measures: 2.75" L x 2.75" W x .65" H and weighs approx. 4 oz.
Need Multiples? We are happy to offer quantity discounts. Please contact us for a custom quote.
Free Shipping on all orders.  
Item: BBT-D521B