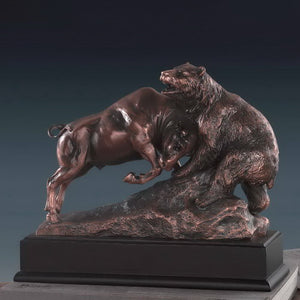 This Wall Street Dueling Bull and Bear Statue is one of our top-sellers! In this scene, the two are going head-to-head! The detail and quality of this sculpture are exceptional. It features a stunning bronze finish. It's elegant enough for any office space. These statues are fantastic gifts for financial advisers, investors, and clients. Your recipient will treasure this neat and thoughtful gift!
The statue measures 11" W x 9.5" H and weighs approx. 6 lbs. 7 oz.
Need Multiples? We are happy to offer quantity discounts. Please contact us for a custom quote.
Free Shipping on all orders.
Item: TST-53223