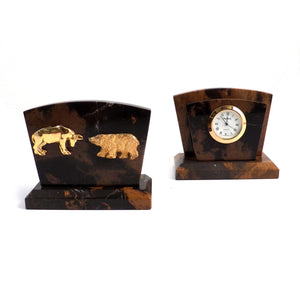 This elegant clock/letter rack features solid "tiger's eye" marble with gold plated accents. This item is one piece with the clock in the front and the letter rack in the back. The second picture is just showing what the back of it looks like.
It has a quartz timepiece, so it's accurate and reliable. The letter rack will help keep you organized. The gold-plated bull and bear emblems set it apart. This unique desk accessory will look fantastic in any office space. This is an excellent gift for financial advisers, investors, and clients. Your recipient will treasure this neat and thoughtful gift!  
Measures: 4" L x 2" W x 3.5" H and weighs approx. 1 lb. 2 oz.
Need Multiples? We are happy to offer quantity discounts. Please contact us for a custom quote.
Free Shipping on all orders.    
Item: BBT-D017B