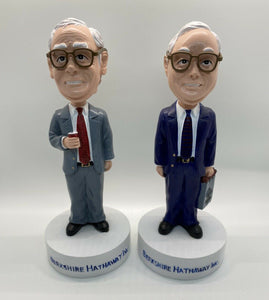 Berkshire Hathaway Memorabilia
This rare bobblehead set of Warren Buffett and Charlie Munger will make the perfect gift for that diehard BRK fan or investor in your life! The bobbleheads are in new condition and come with a protective box. The glasses are not permanently attached but stay on well. They could easily be super-glued, but it's not necessary. 
The base and body are made of high-quality resin and feature a hand-painted finish. Notice that Warren is holding his favorite Coca-Cola, and Charlie is carrying a Borsheims gift bag!
Measures approx.: 8.5" H x 4" W and weigh 16 oz's each!
This gift is sure to bring a smile to your recipient's face! These look fantastic displayed in an office or sitting on a bookshelf. Like other Berkshire Hathaway investments, these will probably go up in value over time!  
Click to see all Berkshire Hathaway Memorabilia  
Free Shipping! 
Item: CBH-225